This weekend's news headlines showed staggering criticism of the government over PPE waste.
"The Daily Mail and the Daily Express are angry about the £8.7bn spent by the government on personal protective equipment that was faulty, or not used by its expiry date."

BBC news
The Mail describes the situation as a "staggering illustration of government waste", this news arrives just a week after it emerged that more than £4bn pounds had been lost to Covid loan fraud.
The Express calls it "scandalous". The Financial Times says money was "squandered".

In attempts for infection control from COVID-19, PPE has played an important role in protecting people from the spread of the virus. Whether this was face masks for the public and their day-to-day protection or full-scale protective equipment for the frontlines of the NHS. Unfortunately, this has not always been the case. With dodgy backdoor Government deals, lack of supply to the NHS, and costs skyrocketing, PPE was in short supply at times when it was needed most.
Yet, from failing to provide for the most vulnerable workers, the Government has jumped from one extreme to the next leaving themselves, now, accumulating waste.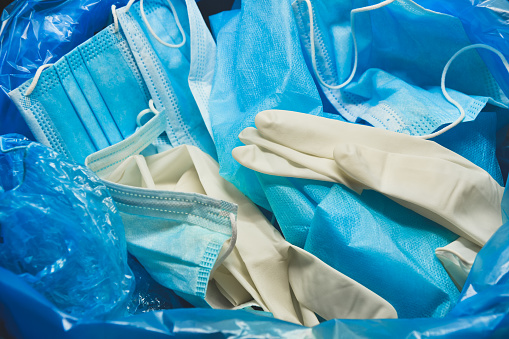 As the government prepares to announce its long-awaited "levelling up" plans, the Independent says a damning report by the National Audit Office warns that billions of pounds may be wasted, because ministers are picking projects "too small to revive poorer areas" and failing to analyse "what works".
Yet in all of this, fresh reports are leaking following more evidence of parties during the lockdown period. Due to the ongoing police investigation, Downing Street refuses to comment.

PCIAW® has already highlighted the issues with the Government's overuse of PPE and the ramifications of overuse of plastic and lack of recyclable materials used that has created more waste for the planet.

Now, the BBC and many newspapers report on the "waste" of PPE in regard to money lost, rather than the negative implications of waste on the planet.
To find out more on what can be done to reduce PPE waste, visit here.
Source: BBC