The Tampa Bay Devil Rays are returning to a Major League Baseball diamond for four games in 2019, and good news, game one is tonight!
First brought back last season in celebration of the club's 20th anniversary of their expansion year, everyone's favourite gradient-heavy throwback uniform proved so popular with, well, the world that the club decided to bring 'em back for yet another year.
Aside from tonight's retro contest with the Boston Red Sox, the Rays will also wear the set on May 11th against the New York Yankees, on June 15th against the Los Angeles Angels, and finally August 17th against the Detroit Tigers.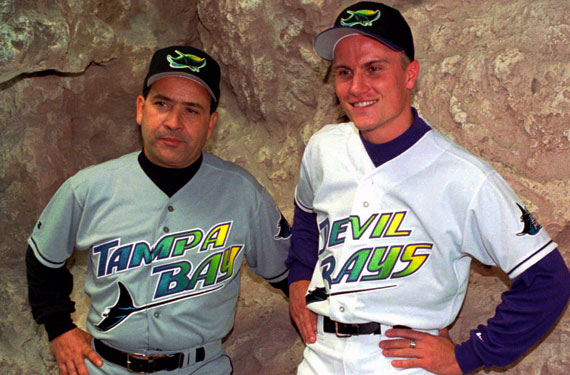 Tampa Bay Devil Rays unveil inaugural 1998 season uniforms

The Devil Rays (as the Rays were then known) joined the American League for the 1998 season, introducing Major League Baseball to rainbow gradients in the process. The club switched to a more traditional (and incredibly underrated) look after just three seasons, a solid black-and-green set that seems to have been forgotten by everyone. The Devil Rays eventually changed their name to the Rays, adopting their current look in the process for the 2008 season.
Tampa Bay wore these uniforms four times in 2018 going 3-1 in those games, based on the way the team has performed so far during this young season it wouldn't be unreasonable to expect similar or even better totals in 2019.
Read more at: http://news.sportslogos.net/2019/04/20/devil-rays-uniforms-return-for-four-in-2019/